DANCE HISTORY
Before starting with the tale I believe you're looking for, let's remember that dance history is infinite. The 'western' dance community has built ONE general story, commonly recognized as the official tale for concert dance or scenic dance history.
That is what this page is going to be about, off course, but don't forget: even though you'll find a large story here, a part of the tale is missing… (historians would say a BIG part…) 

I'll try to provide a handy reading, in order to facilitate your research. For this purpose, this text will be divided into three categories: contemporary dance history, modern dance history and ballet history.
In this page you'll find a brief picture of each one of those categories and the names of some people (choreographers, dancers, teachers, producers…) who were or are significant for those periods. To expand on any of the subjects, just click on its corresponding link. There you´ll find a longer tale…
One last thing before we start: keep in mind that when I say 'period', I'm talking about an 'aesthetic period'. Although artists classified in a same aesthetic period usually live during the same chronological period, this is not a rule. You might find them, their works or some of their ideas crossed in time.
So lets begin:
Rough chronological period: 1950's – Present time (around 2010).
Some characteristics: its figures are spread all over the world, eclectic use of modern and classical techniques for the dancers training, eclectic use of choreographic vocabulary on stage, 'performance' instead of show, dance has a social and political function as much as an aesthetical function, names of dance trends associated: Post-modern dance, New dance, Young dance, Dance-theater, Contemporary ballet.
Some figures: Merce Cunningham, from the Judson Church: (Simone Forti, Steve Paxton, Yvonne Rainer, Judith Dunn, Trisha Brown, David Gordon, Deborah et Alex Hay, Elaine Summers, Lucinda Childs, Meredith Monk, Yvonne Rainer), Dominic Bagouet, Odile Duboc, Jean Claude Gallota, Daniel Larrieu, Maguy Marin, Angelin Preljocaj, Karin Saporta, Anne Teresa de Keersmaeker, Wim Vandekeybus, Lloyd Newson, Sasha Waltz, Siobhan Davies, Akram Khan, Sidi Larbi, Rafael Bonachela…
Close Related: Pina Bausch, Butoh: (Tatsumi Hijikata, Kazuo Ohno, Ko Murobushi, Ushio Amagatsu, Carlotta Ikeda...).
Rough chronological period: end of XIX century – 1950s.
Some characteristics: two simultaneous birthplaces (U.S.A. and Germany), anti-academism, liberation of body and its expression, creation of renowned schools and masters, refusal or ignorance of ballet and its aesthetic paradigms.
Some figures: Francois Delsarte, Émile Jacques Dalcroze, Rudolf Laban,Isadora Duncan, Mary Wigman, Loïe Fuller, Ruth Saint Denis, Ted Shawn,Doris Humphrey, Charles Weidman, Kurt Jooss, Oskar Schlemmer, Jose Limon(José Limón), Martha Graham, Alwin Nikolaïs, Alvin Ailey, Lester Horton, Paul Taylor…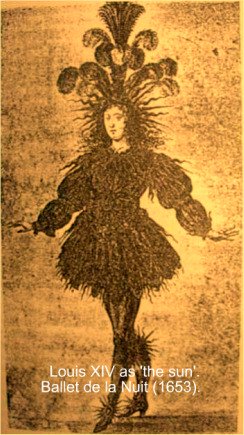 Photo taken from the book "Historia del ballet y de la danza moderna". Abad Carlés, A., Alianza Editorial, 2004.
Rough chronological period: XV century – Present time.
XV-XVI centuries: Court dances or pre-classical dance history.
Some characteristics: birthplace Italy, dance has a social function, short choreographic pieces danced by the aristocracy in the royal palaces, the figure of the 'dance master' (or teacher) appears in the court.
Some figures: Domenico da Piacenza, Guglielmo Ebreo, Antonio Cornazzano, Cesare Negri, Marco Fabrizio Caros.
XVI –XVII centuries: Court Ballet and Baroque dance history.
Some characteristics: home France, dance has a political function, birth of ballet as a public event, huge, long lasting, narrative shows for the royal court, interest in the ancient Greece values, foundation of the Royal Dance Academy and the Dancing School of the Opera, dance as a profession, two main genres: Comedy-Ballet and Opera-Ballet.
Some figures: Catalina de Médicis, Thoinot Arbeau, Louis XIV, Pierre Beauchamps, Jean-Baptiste Lully, Molière, Pierre Rameau.
XVIII century: Ballet of Action.
Some characteristics: technical virtuosity gain over grace between dancers, appearance of brilliant soloists, shoes without heels for dancers, shorter skirts allowing to expose the movement of the legs, Noverre's revolution and invention of an expressive pantomime.
Some figures : Pécour, Jean George Noverre, Marie Sallé, Marie Camargo, Francois Prévost, Marie Anne de Cupis de Camargo, Gasparo Angiolini, Jean Bercher 'Dauberval', Maximilien Gardel 'the old', Pierre Gardel 'the young', Marie-Madeleine Guimard, Gaetan Vestris, Auguste Vestris.
End of XVIII century – XIX century: Romantic Ballet history.
Some characteristics: ballets in two acts (the first about the real world, the second about the unreal), female dancer's predominance, period of the white, see- through chiffon skirts, implementation of the use of pointes, expression of the soul , lyricism gain importance over technical virtuosity, tales from European mythology, love between mortals and spirits, miraculous effects, famous ballets: THE SYLPH (1832), GISELLE (1841).
Some figures : Filipo Taglioni, Jean Coralli, Jules Perrot, María Taglioni, Fanny Elssler, Carlotta Grissi, Fanny Cerrito.
Second half of XIX century: Classical, Academic and/or Imperial Ballet history.
Some characteristics: home Mariinsky Theater of Saint Petersburg, choreographic vocabulary from the French school and technical achievements from the Italian school, extreme technical virtuosity, theatrical sense, fairy tales, mime, stylized folkloric dances integrated into ballets, establishment of the 'Pas de deux' form, famous ballets: SWAN LAKE (1895), THE NUTCRACKER (1892), THE SLEEPING BEAUTY (1890), M. Fokine, V.Nijinsky, B. Nijinska, T.Karsavina and A.Pavlova's training period.
Some figures: Marius Petipa, Lev Ivanov, P.I. Tchaikowsky, Enrico Cecchetti.
XX century – Present time: Modern, Neoclassical and/or Contemporary Ballet history.
Some characteristics: ballet dancers and choreographers mix their choreographic legacy with modern and contemporary art values, powerful ballet companies spread all over the world.
Some figures: V. Nijinsky, Serge Diaghilev, M. Fokine, Ana Pavlova, Maria Rambert, Ninette de Valois, George Balanchine, John Cranko, Maurice Béjart, Keneth Mac Millan, Robert Joffrey, Jirí Kylián, William Forsythe, Mats Ek, Nacho Duato, Jean Cristophe Maillot, Sylvie Guillem…
Some remarks about this content:
Ballet history and modern dance history are regarded here as a background of contemporary dance history. That's why they are included in our site.
Consider this tip for your reading: if you really want to go deep into the subjects treated on any of our dance history pages, the best thing is to read the different researches published by professors or serious researchers in their books (I'll be offering you some of those issues at our site soon!). Please understand that the goal of this page is to give you a general overview. I'll do my best to help you find the corresponding resources for your research. At the end of this page you'll find a list of book references I've used.
Now, if you're an historian or a dance history expert, I hope you'll forgive me for the tremendous historical reduction exposed here. As I said above, my goal is to provide a handy text that should help to guide first general researches. Look for the extended versions of the content in the suggested links. There'll be more about the respective dances in there.

Written by Maria Naranjo, 2010.
---
These are the main bibliographic references I've consulted for our whole history section (in alphabetical order):
Abad Carlés, Ana. Historia del ballet y de la danza moderna. Alianza Editorial, Madrid, 2004.
Bourcier, Paul. Historia de la danza en occidente. Blume, Barcelona, 1981.
Ginot, Isabelle – Michel, Marcelle. La danse au XXe siècle. Larousse, Paris, 2002.
Haskell, Arnold L. ¿Qué es el ballet? Instituto cubano del libro, La Habana, 1973.
Horst, Luis. Formas preclásicas de la danza. Instituto cubano del libro, La Habana, 1971.
Kochno, Boris. El Ballet. Editorial Nacional de Cuba, La Habana, 1962.
Lifar, Sergio. La danza. Ediciones Siglo Veinte, Buenos Aires, 1952.
Márquez Romero, Guillermo. Danza moderna y contemporánea. Editorial Pueblo y Educación, La Habana, 1988.
Martin, John. Historia de la danza. Editorial Nacional de Cuba, La Habana, 1965.
Noverre, Jean Georges. Cartas sobre la danza y los ballets. Editorial Arte y Literatura, La Habana, 1985.
Woodward, Ian. Ballet. Hodder and Stoughton, Kent, 1977.
As I said above, I'm aware of the fact that dance history is a huge subject. Everything is not covered here. But, if you'd like me to help you go on with your research, jut remember that you can ask at our page for dance questions.
Is there a dance history topic you'd like to know more about?...Just send me your question or comment. I'll do my best to include that information in contemporary-dance.org for you.
Return to Contemporary Dance Home Page