DANCE JOKES!
Welcome to the funny page! … Do you have dance jokes to share with us?
...hey colleagues... I must say that we don't seem to be very good at this... but anyway..., here it is:
---
Why did the little kid dance on the jar of jam? Because the top said, "Twist to open."
---
The dance writer joke: (Could you repeat it please? I didn't get it well...)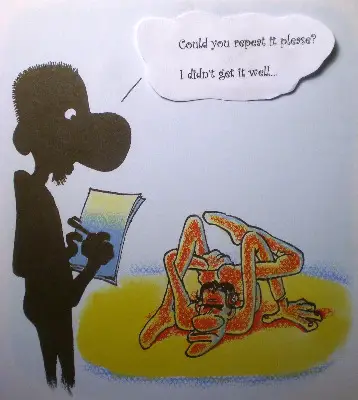 ---
Why don't dogs make good dancers? Because they have two left feet!
---
What dance do hippies hate? A square dance.
---
There was a dance teacher who talked of a very old dance called the Politician. "All you have to do" she told her class "is take three steps forward, two steps backward, then side-step side-step and turn around."
---
What do tired line dancers do? They Line Down.
---
How many line dance instructors does it take to change a light bulb? Five!...Six!...Seven!...Eight!
---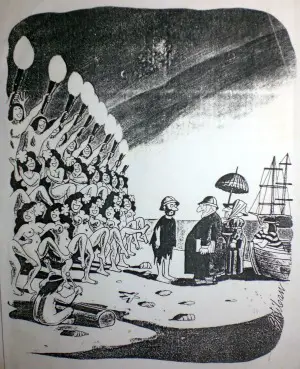 Christianity? I thought you said to teach them choreography!
---
Visitors' contributions
Title: Jennis joke
By: Jenni
From: Her mothers uterus

How do you get a tissue to dance? You put a little boogie in it
---
Title: Salsa Retriever!
By: Peter Palacio
From: Colombia
Enjoy!
---
Title: Dance Definition
By: Ed
From: 
Q.  What is the definition of dancing?
A.  It is the vertical expression of a horizontal desire.

---
Title: 
By: 
From:
Q: Why did the dancer cross the road?
A: She had to do the same trick but in the left side!

---
Title: 
By: Matan
From: 
Is the Mark Morris company named that because they mark more than any other company?
---
Title: Haunting Dance
By: Melissa
From: VA

What music do ghosts dance to?~~Soul Music!
---
---
---
---
Return from Dance Jokes to Contemporary Dance Home Page