ISADORA DUNCAN
A lot of people entitle Isadora Duncan (1878 - 1927) as the founder of western modern dance. Somehow this is true, because she produces an original and revolutionary artistic work at her historical moment and context. She is so famous also, because her ideas and aesthetics get spread and create influences in other dancers and choreographers.
Though, she is not the only artist to work on the modern dance project. Actually, she is part of a trend promoted by several artists and by the historical context of the Unites States of America and Europe at the beginning of the XXth century.

---

Isadora Duncan Photos Courtesy of the Isadora Duncan International Institute, Inc., New York, New York.
Isadora is born in San Francisco and grows up within a family for which playing music, reading poetry and dancing are common activities. She expresses her inclination for dance from the very early age of five and since then she achieves to gather other kids to give them dance lessons.
She takes ballet classes but rejects them soon, arguing that she wants to create a different dance, free from the conventions of classical ballet and closer to her temperament. This is how she starts an artistic research and journey that will last till the end of her life.
She travels to Europe, where she'll be more celebrated than at home and lives the essential part of her career. Visiting London, Paris, Berlin, Greece and Russia, she performs, creates schools and dedicates herself to the contemplation and study of the ancient Greece collections displayed in museums. History tells us that her lyricism, vitality, charismatic personality and own sense of the 'natural', gain her to be taken in by Europe as a fresh and new message.
"Her dance lacked of all kind of technical virtuosity, as well as of any traditional ballet steps. She based her dancing experience in a slight intensification of natural movements: slight runs, no big extensions of the legs, no big jumps. She'd raise legs forwards with bent knees, the foot without extension of the instep, the head tilted. The arms were extended freely without any defined position. There were no poses and movement was mainly undulating and fluid, round and more symmetric than asymmetric. Her hands and fingers could take many different positions, according to the intensity of the expression, but would never follow preconceived or artificial shapes. The face and neck were mobile and expressive; the torso was freed completely and flexible. She'd lean, kneel and fall with lilting movements. There were neither strong contrasts nor shrillness in the dynamics of movement" (personal translation from the Spanish in the book: Danza moderna y contemporánea. Márquez, Guillermo . Ed. Pueblo y educación, La Habana, 1988).
It is difficult to find videos of Isadora. Among what is easily available, the following might be the only sample in which we can see her actually dancing:
It is said that her dancing style should not be associated with a lack of study or reflection about her art. Isadora consults works about all types of dance carefully before declaring that her only dance masters would be Jean Jacques Russeau, Walt Whitman and Friedrich Nietzche.
That is one of her radical innovations and differences from the classical dance of the time. She doesn't base her art on a search for physical skills but on a connection between her own thought and feelings with the movement they can generate.
Rather than defining shapes for her dance, she searches for stimulation in music, poetry and nature, which are supposed to induce the inner impulse to move.
This is why the importance of this woman for modern dance lies less in the contribution of a technique than in the width and opening of her thought: her art is a spiritual expression that finds its sources in human soul. For her, dance is an expressive result of personal life.
"All I've done is to dance my life".

 Isadora Duncan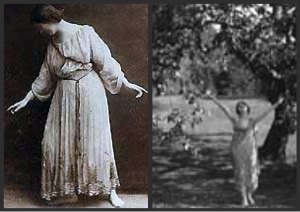 Isadora Duncan Photos Courtesy of the Isadora Duncan International Institute, Inc., New York, New York.
She is famous for dancing to the music of Chopin, Schumann, Mendelssohn, Beethoven and Bach, dressed with light Greek tunics and barefoot.
Though, it is written that she does not like the commercial aspects of public performance, as her real mission is the creation of beauty and the education of the young. She founds several schools dedicated to teaching her dance philosophy to groups of young girls. The first, in Germany, gives rise to her most celebrated troupe of pupils, dubbed the Isadorables, who takes her surname and subsequently performs both with Duncan and independently. The second school is short lived prior to World War I at a castle outside Paris. She founds a third while in Moscow in the wake of the Russian Revolution.
Though most history books say she leaves no direct legacy, there are currently groups of women who perform and teach according to her style and ideas. One of them is the Lori Belilove & The Isadora Duncan Dance Company. They consider themselves as the pre-eminent Isadora Duncan dance company performing in the world. The Company is under the artistic direction of third generation Duncan dancer Lori Belilove, whose direct lineage has earned her an international reputation as the premier interpreter and ambassador of the dance of Isadora Duncan.
You can visit their site here: Lori Belilove & The Isadora Duncan Dance Company
There's also the Isadora Duncan International Institute, which is a non-profit educational organization committed to the enhancement of education through movement and the arts, drawing from Duncan's ideals and principles. It was founded in 1977 by Maria-Theresa Duncan (Isadora's adopted daughter) and Kay Bardsley. The IDII continues Isadora's legacy through its educational programs for children and adults, performances around the globe and preservation of historic and unique archival material.
Visit their site here: Isadora Duncan International Institute
It is important to understand that the impact caused by Isadora is highly due to the state of western society at the beginning of the XXth century. None of the scandal or fascination she provoked would have occurred if she wouldn't have incarnated such a freedom from social conventions.
Being a champion of the struggle for women's rights, social revolution and the realization of poetry in everyday life, Isadora Duncan's aura reaches beyond the audience of dance. Her originality and depth of thought strikes the spirits and her spectacular death, being strangled by her scarf while in a car ride, crystallizes in history her image both as an angel and heroine.
If you'd like to know about Isadora from her own voice, look for the autobiography she left before leaving: Duncan, Isadora (1927). My Life. Boni and Liveright, New York.
The book is very anecdotal, but you'll be able to find the mind and spirit that guided her dance through the lines.
---
Return to Modern Dance History 

Return to Contemporary Dance Home Page