CONTEMPORARY DANCE HISTORY
I'll use the expression 'contemporary dance history' to talk about figures, choreographic productions or related facts occurred in western culture between the 1950s and the present time (around 2010).
Though, it is important to keep in mind that this expression is used in a popular way to gather many different (really really different) choreographic practices, which can be sometimes contradictory in their aesthetical proposals.

So, the expression 'contemporary dance history' will serve here mainly as a chronological reference. A discussion about contemporary dance features of the following figures or pieces might come in other pages. 

We could say that both ballet and modern dance are ancestors of contemporary dance. Ballet creates the general concert dance frame work and technical knowledge used or refused by contemporary dance. Modern dance is at the same time its 'anti-reference' and kind of 'mother in law'.
So, there's a contemporary dance history before the 1950s: that one of ballet and modern dance, which somehow serves society to make emerge contemporary dance.
If you prefer to browse through a handy summary of contemporary dance history (with the names of figures who were or are significant for it), go to our general dance history page. The following is an expanded version of that part.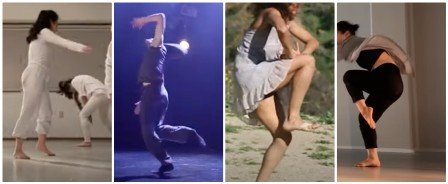 As the information about contemporary dance history is increasingly available in time, the data about this chronological period is far larger than the one for modern dance history or ballet history. Also, it continues to increase and change everyday. So, the following text provides only a selection of very important figures or trends, recognized for their creative work. A huge part of this story will wait for later pages or discussions.
One reading tip before starting: if you're looking for a specific choreographer or dance company that does not appear below, you might want to browse over our contemporary dance companies page. Happily, nowadays most dance groups have great websites, where you can know a lot about them and even have a glimpse of their creative work in dance pictures or videos.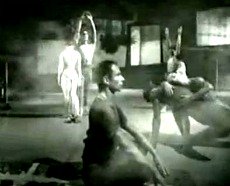 "Variations V". Choreography: Merce Cunningham
Merce Cunningham is a student of Martha Graham. After being a main dancer in her company for several years, he starts an independent career as a choreographer in 1942. Accompanied by John Cage's music, he presents a solo entitled "Totem ancestor", which opens his period of individual research.
Since 1943, always accompanied by Cage, he starts a series of concerts and tours with the purpose of exposing his new ideas concerning dance.
In 1953, he creates a group in the Black Mountain College (North Carolina) that allows him to develop a method full of new artistic postulates. He innovates from almost all of the possible perspectives: choreographic, compositional, technical-interpretative, musical, philosophical and others.
Contemporary dance history considers him as the first choreographer that proclaims himself against the established conceptions of modern dance, and develops an independent attitude towards the artistic work.
Some of his ideas:
• Dramaturgical and compositional perspective:
- Abstraction: Movement is expressive and enough beyond any intention. There's no need to tell a story or reflect something.
-No figurative or emotional references.
-Away from the need of communicating something, from pre-established formal elements or coming from an interior impulse.
-To compose in space and time without a goal.
-Immobility (as silence) is a sufficient aesthetical experience.
-Chance as a method for making aesthetical choices: throwing coins or dice, using the 'I Ching'.
-Multiple and simultaneous actions.
• Musical perspective:
-Independence between dance and music.
• Scenic frame perspective:
-Deconstruction of rules of perspective and symmetry defined by court ballet: breaking of scenic space conceptions of front, center and hierarchies: space is equal at any point, fragmented and exploded.
-No hierarchy between dancers.
-The audience is free to see in its own manner and with its own looking choices.
-Out of theaters: non conventional spaces.
-Inventor of the 'EVENT': sequence of dances whose dramatic structure or content is never stable, with no sense of logical syntax or construction (ancestor of what is later called happening).
• Technical-interpretative perspective:
-Virtuous dancers in a new sense.
-Mastery of tempo and movement length by inner perception.
-Ability to dance with great speed and changing of rhythm and directions in an unpredictable way.
-Capability of adapting and memorizing sequences.
-Rhythmical diversity without equivalent.
-Classical technique for the legs.
• Philosophical perspective:
-Abandonment of the ideas of the 'inspired artist', the piece of art as an expression of an individual and an evaluation criterion based on beauty or expressive qualities.
-Order inside disorder.
-Never the two same 'events': not about fixing, but about reflecting flexibility of life.
-Reflecting life: no linearity, no classical dramaturgy, things don´t happen only in a successive way but also simultaneously.
-No politics, no narrative, no argument, no theme, no intention.
-Creative freedom.
-ZEN influence: "non obstructive quality" of things, they can coexist in nature without interfering with each other.
-Dance to be danced or to be seen, not to be analyzed.
• Others:
-Innovative lighting, sets and costumes thanks to the collaboration with contemporary artists like Andy Warhol, Robert Rauschenberg and Jasper Johns.
For contemporary dance history there's a 'before Cunningham and after Cunningham'. His work marks the time for a completely new era of dance and gains it the inscription inside the story of contemporary art with the same status as other arts.
The 'postmodern' dance

: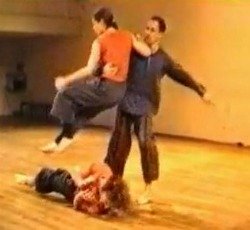 Post modern dancers during a session of contact improvisation.
To understand the so called 'postmodern' dance, it is important to remember the social context in which it develops. The 1960s in the U.S.A. are years of questioning of the historical 'truths' and ideological principles that rule over the social, political and artistic fields. Society starts a process of opening to the recognition of plurality, relativism of knowledge and subjectivism of perception.
According to contemporary dance history, the ambience of social and cultural changing is noticeable in arts by a tendency for experimentation and radicalism. From this time on, choreographers stop creating 'schools' or 'styles' like their modern masters did. Influences between each others are less direct and more fragmented.
Among the artists who start gathering with this new spirit (or join the group in time) are Anna Halprin, Simone Forti, Yvonne Rainer, Judith Dunn, David Gordon, Trisha Brown, Steve Paxton, Deborah et Alex Hay, Elaine Summers, Lucinda Childs and Meredith Monk.
They do one first concert in the Judson Memorial Church (New York) in 1962. After a time of stability there, the "Judson Church Dance Theater" is consolidated. In 1970, it is followed by the gathering of an improvisation group called "Grand union".
Some of the postmodern dance features are:
-"Anything goes" (time of subjectivism), which means that everything proposed is valid.
-Questioning of 'modern' dance principles and history (in the early times), and recovering of its heritages and acquisitions (later).
-Search for the degree zero of movement: exploration of daily life movement as a sufficient aesthetical experience and denial of the importance of technical virtuosity.
-Substitution of aesthetic judgment by observation and analysis (notions of good and bad loose importance).
-Intention of approaching dance (arts) to life and big audiences (dance in the streets, performers that are not dancers…).
-Search of a lack of expression by the dancer.
-Identification of social and ideological marks in the body and its movement.
-Refusal of the pretention of creating a vocabulary, repertory or style.
-Questioning of the value of the notion of 'author' of an art piece.
-Performance: doing something more than representing it. Dancers, actors, musicians and visual artists have the same status within it. Frontiers between artistic genres become undefined.
-Importance of improvisation.
-Exploration of repetition as a compositional method.
-Artists (dancers) react against the consumer society, the wars held by the U.S.A., the art market and the elitism of its conventional places.
Some of the choreographers that started their careers during the 60s, in the middle of this ideological ambience, continue their researches independently.
Contemporary dance history has records of those exemples: Lucinda Childs (known for her repetitive procedures and purist minimalism), Twyla Tharp (known for having become a popular -more than an avant-garde- artist, who fuses her work with pop culture), Trisha Brown (known for her exploration of gravity, 'accumulations' and 'unstable molecular structure' period) or Steve Paxton (famous for the development of 'Contact Improvisation').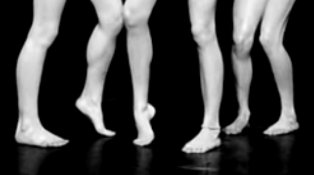 Butoh is the name given to a group of performance practices that could be considered as a type of Japanese contemporary dance.
Around 1959, Japan sees the birth of a new gestural language, anchored in the complex cultural experience of the country at the time. Contemporary dance history commonly associates the motivation for this arising with the social devastation and misery left by the world second war. Though, it has been recorded that it also appears as a reaction against the contemporary dance scene in Japan, which Tatsumi Hijikata (considered the founder of butoh) felt was based on the one hand on imitating the West, and on the other on imitating the Noh (major form of classical Japanese musical drama).
Hijikata critiques the current state of dance as being superficial and develops his expressive way, giving it the name of "dance of the darkness". In a search for an individual or collective memory, butoh find its essential subjects and components: death, eroticism, sex and mobilization of archaic pulsations.
After Hijikata and Kazuo Ôno (considered as a founder of butoh as well), a series of renowned figures are found in contemporary dance history: Ushio Amagatsu (director of the famous group Sankai Juku), Ko Murobushi, and Carlotta Ikeda, among others.
Some of the butoh's common features are:
-Use of taboo topics.
-Extreme or absurd environments.
-Slow hyper-controlled motion.
-Almost nude bodies completely painted in white.
-Upward rolled eyes and contorted face.
-Inward rotated legs and feet.
-Fetal positions.
-Playful and grotesque imagery.
-Performed with or without an audience.
-No set style:" There are as many types of butoh as there are butoh choreographers." (Hijikata).
-It may be purely conceptual with no movement at all.
- Its technique uses some acquisitions from the traditional Japanese knowledge, like the control of energy, which translates into an insistent rhythm (close to Nô Theater) and strong expressivity.
Butoh is first rejected in Japan. The first piece by Hijikata, in 1959, creates a scandal and he is socially banned. Later, he is greatly received in the western world (especially in Europe in the 70s).
Butoh finally gains a big success in Japan in the 80s, thanks to an artistic trend that is interested in the search for a national identity. By the 90s, the new generations connect Japanese butoh with cultural references spread world wide.
Nowadays it is a dance preformed all over the world and mentioned in almost every contemporary dance history record.

Pina Bausch

 (1940 - 2009, Germany):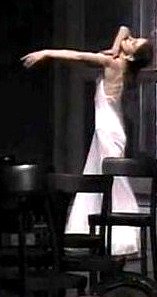 "Cafe Müller". Choreography: Pina Bausch
Heir of the German expressive dance, Pina Bausch receives her dance training at the Folkwang School in Essen, under the supervision of Kurt Jooss. She is engaged there as a choreographer since 1973, thanks to what she creates the Wuppertal Dancetheater. Under this name, although controversial at the beginning, her company gradually achieves international recognition because of the proposal of a new form of show that shatters the world of dance as much as the world of theater.
The work of Pina Bausch is close related to contemporary dance but is most commonly known as a modality of postmodern or contemporary ballet (from the dance perspective and not the theatrical one)). This is possibly because she uses classical, virtuous dancers, but goes far away from the classical ballet performing conventions. At the same time, even if her pieces include theatrical gestures and voice, she refuses the theatrical procedure of constructing characters.
According to contemporary dance history, these are some of the features of her work:
-Combination of poetic and everyday elements.
-Shows where there's mixture of musical hall, operetta and happening.
-Recurrent subject: the human loss within social systems that are stereotypical and hypocrite.
-Denunciation of codes of seduction.
-Repetition and non linear narrative.
-Refusal of creation of 'characters' in a theatrical sense, but use of voice and theatrical gestures.
-Virtuous dancers, daily trained in classical ballet.
Pina Bausch is also known for having developed her own compositional method. She searches the choreographic material using the strategy of asking questions to the dancers (about childhood memories or buried stories). By this, she pushes dancers to exteriorize their selves through an introspective work.
Awarded some of the greatest prizes and honors world-wide, Pina Bausch is recognized by contemporary dance history as one of the most significant choreographers of the end of the XX century.
Ballet and contemporary dance (art) ideas

:

While at the origins of modern and contemporary dance, ballet appears often either as a model to refuse or as a foreign field, the second half of the XX century sees classical and contemporary dance into a position of reciprocal interest.
From the point of view of some contemporary dance cases, ballet will be an allied that serves mostly for the technical development of performers.
From the perspective of ballet, contemporary dance ideas will mean the access to huge creative and experimental issues, as much as the possibility to experience technical alternatives.
The spreading of postmodern ideas triggers a series of 'recreations' of classical ballets (like Swan Lake, Giselle, Coppelia, The Sleeping Beauty or the Nutcracker) by the new choreographers as well as the fusion of styles.
Some important figures that appear in contemporary dance history as conductors of the crossings between ballet and contemporary dance values are:
Rudolph Nureyev (1938 – 1993): an archetypical classical figure who will not hesitate to work with modern and contemporary dancers and that becomes a great incentive for the classical community to start trespassing barriers.
Jirí Kylián (1947, Czech Republic) and Hans van Manen (1932, Netherlands): together they cause the explosion of the Netherlands School in the 80s, incorporating modern ideas to ballet vocabulary and elaborating an own style. The Netherlands Dance Theater becomes the working place of some of the most renowned international choreographers like Mats Ek, William Forsythe and Nacho Duato.
William Forsythe (1955, U.S.A.): highly determines the 90s with his style, searching for the dancers' technical limits and breaking the conventions of the representation. He would say: "Classical vocabulary will never be old. It's the way to use it what makes it get old. So, I use it to tell current stories."
The figures that could be considered as part of this trend are a lot and it would be more than inappropriate to make generalizations about their works. I believe each one of them deserves an own page, so I'll be constructing and providing those at our site in time.
For the moment, here's a list of some of the choreographers that haven't been mentioned yet and that are commonly found in contemporary dance history:
Maurice Béjart, Keneth Mac Millan, Robert Joffrey, John Neumeier, Mats Ek, William Forsythe, Nacho Duato, Mark Morris, Jean Cristophe Maillot, Maguy Marin, Angelin Preljocaj, Dominique Bagouet, Wim Vandekeybus, Matthew Bourne…
Classifying 'ballet choreographers' into a history of contemporary dance may feel inadequate. Tough, I've chosen to mention them briefly in this page, because for this chronological period of contemporary dance history, aesthetical frontiers are very much undefined. It would not be very precise to say that one choreographer is more 'classical' or 'contemporary', as the correspondent features are used freely by all with the creative purposes of each choreographic project.
That's why our contemporary dance history tale finishes here. Look in the future for the linked pages that will provide the specific information about each one of the artists.
Written by Maria Naranjo, 2010.
| | |
| --- | --- |
| If you want to have this information at hand whenever you are not online, or want to make a nice gift to someone, I have the HANDY E-BOOK OF CONTEMPORARY DANCE HISTORY available for you: | |
Related threads:

Forum for dance questions about theory and history
Contemporary… (when did it start?)
The role of society in the evolution of modern and contemporary dance
Dvd on modern dance history: trailblazers of modern dance
Contemporary ( what is contemporary dance ? )

We have many other interesting threads. Just visit our forum for dance questions about theory and history and browse around!
---
Español. Historia de la danza contemporanea 

Return from Contemporary Dance History to Dance History 

Return from Contemporary Dance History to Contemporary Dance Home Page