CONTEMPORARY DANCE FESTIVALS

The World Wide Directory
This is a directory of contemporary dance festivals. It is organized first by countries and then in alphabetical order within those countries. Some festivals occur in different cities each year or in several cities simultaneously. Those appear first, before the regular list.
We have a submission form for you to share or promote the festivals you know. Just follow the link and fill in the information (it's free).

Just keep in mind that this is a website about contemporary dance. Festivals about other dance genres will not be included in the list.

We hope this page helps you find some useful information. Please, pay it forward by sharing the existence of any other contemporary dance festival of which you are aware.
Thanks!
NOMAD FESTIVALS (They may take place in different cities each time or occur in several places simultaneously)
Danca em Trânsito (across Brazil) A plural and itinerant festival, which inspires us in the commitment to make more and more visible, and for more people, the multiple expressions of art.

Salute to talents (across Russia) The Salute to Talents creative association is the organiser of numerous festivals-contests in Russia and abroad. The majority of the contests is multigenre and includes 'choreography' category. Participation in such festivals-contests makes talented children believe in their gifts, share unforgettable experience with other contestants and travel around the world.
Screen Dance International Screen Dance International (SDI) was founded by Joanna McNamara, JMC/Productions and is a traveling screendance festival that highlights a wide range of dance genres including: urban street dance, postmodern and contemporary dance, world dance, ballet, dance theatre, jazz, tap, animation and experimental dance. 
Spring Forward Festival (across Europe)
Wanderlust Dance Project (Los Angeles, Dallas, Houston, Chicago) Wanderlust Dance Project made it's mark in 2016, as chief dance critic Margaret Putnam's Top Ten Performances of the year, alongside Kidd Pivot and BalletBoyz. Premiering as the only Non-Profit 501(c)(3) of it's kind, where pre-professionals learn and rehearse from some of the Dance Industry's Top Choreographers, while dancing alongside working professional dancers. Wanderlust seeks Choreographers year-round for both Summer and Winter Sessions. Wanderlust offers commissions for choreographers starting at $1000.

Dancers in class with Sara Idárraga at 'El Cubo', Medellín, Colombia, 2017.
ARGENTINA

FIDIC. Festival Internacional de Danza Independiente (Buenos Aires)

Ola Danza Festival Internacional (Mar del Plata) Workshops + Muestras + Intervenciones + Foro. Idea y Dirección: Andrea Berutti.
AUSTRALIA
AUSTRIA
Bregenzer Frühling (Bregenz) The contemporary dance festival Bregenzer Frühling takes place from March till May in the famous Bregenzer Festspielhaus in Bregenz, Austria. 

BELGIUM
Festival Les Brigittines (Brussels)

IDILL (International dance online short film festival) 
Kunstenfestivaldesarts (Brussels)

BRAZIL
Festival Internacional de Dança do Recife
Fidifest (Santos - São Paulo) International dance competition.
Santa Catarina Dança (Florianópolis)
Vivadança International Festival (Salvador, Bahia)

BULGARIA
Antistatic (Sofia) Antistatic International Festival for Contemporary Dance and Performance started in 2008 as the first festival in Sofia with this profile. It was initiated in the context of the efforts of the Balkan network for contemporary dance Nomad Dance Academy to promote and to develop this art form in the Balkan region and to make it one of the vital dance centers in Europe.

Body Graphics (Sofia / Pernik) BODY GRAPHICS FESTIVAL FOR CONTEMPORARY DANCE AND PERFORMANCE is taking place from 22nd September to 28th September, hosting Bulgarian and international performances, workshops, conferences and open debates on the development, education and distribution of performance and dance art in Bulgaria.
Moving Body Festival (Varna) MOVING BODY is a festival devoted to connecting artists, mediums, audiences and communities through contemporary dance, performances and films that are on the border of video art and dance. The event is held annually in Varna in October. At the heart of the initiative and the design of the program are the questions - What makes us move? How do we move? Towards what we are moving? This concept is realized in a platform for sharing know-how that gives children, youngsters, professional dancers, artists from different fields and moving enthusiasts the possibilitiy to have an encounter with active dancers and choreographers who come to share their experience with them, their arsenal of techniques and philosophical thoughts and ideas around the notion of movement.
The black box theatre and dance festival (Plovdiv)
CANADA
Contact Dance International Film Festival (Toronto)
Dancing on the edge (Vancouver)
Festival Transamériques (Montréal)
Vancouver International Dance Festival (Vancouver)
CHILE
BESTIAS DANZANTES Dance Film Festival (Santiago)
CHINA
Beijing Dance Festival The Biggest Open Platform of Contemporary Dance in China 
Greater Bay Dance Festival (Shenzhen)
Guangdong Dance Festival (Guangzhou) The Guangdong Dance Festival is an annual event held in Guangzhou, China. The activities of the Festival include modern dance performances by forefront international artists and dance companies, an international dance exchange and network building platform, an international dance forum, and master classes and workshops by prominent artists and art administrators.
Hong Kong International Choreography Festival The (HKICF) Hong Kong International Choreography Festival is modelled specifically after the residency (HKICAROS) so as to internationalize and give more opportunities to local and international artists living and working in Hong Kong by interacting and meeting with international artists from across the world.
COLOMBIA
Bienal Internacional de Danza de Cali
Congreso Nacional de Investigación en Danza (Bogotá)
CROATIA
Dance & non-verbal Theater Festival (San Vincenti)
Monoplay - Festival of Solos (Zadar)  The only dance festival in Croatia – in contemporary dance field and its expression within contemporary theatre – specialized in presenting solo performances.

CUBA
Workuba Internacional  All the Levels! A multi-day event where Cuban music enthusiasts gather to learn, party, perform, party, watch shows,party and party some more. Held every february in Theatre America of Havana for 5 day with Afro-Latin music and dance featuring world-class dance Teachers. On its 13th year running, Workuba is recognized as one of the largest festivals of it's kind on in the world.

Artistic Director & Founder: Ms. Marta Bercy (Modern & Afro-Cuban dance Master)
All the Levels: Afro-Cuban Folklore Yoruba, Rumba: Yambú, Guaguancó & Columbia, Danzón & Chachachá,Tango, Dominican Bachata, Rueda de Casino. Dancers-Master Classes: Ballet, Cuban Contemporary Dance, Theatre. 
CYPRUS
DEMOCRATIC REPUBLIC OF CONGO (ZAIRE)
Festival des arts des jeunes "FESTAJ" (Kinshasa) 112, avenue Niangara,  Kinshasa/Ngiri-Ngiri BP 18058 Kin 13
DOMINICAN REPUBLIC
FINLAND
Nytke (Tampere) Yearly event in July at Tampere, Finland, gathering professional dancer together. We dance , we create , we get inspired!
OuDance Festival (Oulu) Who gives a shit about genres! Since it's happening now, it's all contemporary dance. Or at least that's our view for our annual international festival happening on week 37 in mid-September. The festival has an open call annually in November/December time.
FRANCE
Festival de Marseille. Danse et Arts Multiples
Rencontres Chorégraphiques Internationales de Seine Sant Denis
GERMANY
b12 (Berlin)  b12 - the new festival for contemporary dance and performance art in berlin - coming your way every summer! what started out as a small pilot project has grown into an event welcoming more than 45 research experts. 
getting high with b12
 
performance projects, research and outreach: all formats are led by very skilled and dedicated teachers and choreographers from all around the world. we have carefully chosen our teachers in order to maintain a high level of professionalism and give this festival the cutting edge you expect from us. a large array of approaches awaits you. 
 
doing it with b12
 
find the format which best fits to your idea of research, have a great stay in the amazing berlin and find yourself again under the vibrant light of b12. 
 
outreach at b12
 
apart from our professional workshops, we invite anyone and everyone to our community workshops. in these workshops you will develop an understanding of body language, self esteem, teamwork - and find your inner dancer.

Colours International Dance Festival (Stuttgart)

DANCE Festival for Contemporary Dance in Munich, bianual.
Frei Art Festival (Freiburg im Breisgau) The FREI ART FESTIVAL aims to bring dancers, musicians and professional artists together with the public and the general public. We want to get people moving and revitalize artistic exchange through a diverse program.
Internationally recognized dance professionals, musicians and artists from a wide variety of disciplines show current dance pieces and performances in the Pro Arte studio.
The workshops are carried out by renowned dancers and dance teachers. The workshop program is diverse and there is something for everyone, from taster to professional.
Hungarian Contemporary Dance Festival in Berlin
Internationale Tanzmesse (Düsseldorf)
Internationales Solo Tanz Theater Festival (Stuttgart)
Open Spaces/Sommer Tanz (Berlin) "Open Spaces" and "Sommer Tanz" are working hand-in-hand again this summer on stage and in the studios of Tanzfabrik Berlin. This is a duo that really has it! Exciting premieres and rehearsal visits with international choreographers and dancers accompany diverse workshops with acclaimed teachers from all over the world in Kreuzberg and Wedding. Our studios will once more become open spaces for experimenting with movement, reflection and for exchanging ideas with one another. The workshops will take place during the last three weeks of July, with a range of formats for all levels of experience and many teachers that are also choreographers and performers. A program of talks and lectures will deepen and illuminate these intensive working phases. 
During the last years "Sommer Tanz" has continuously expanded its programme of integrated dance workshops, inviting both participants and teachers of physical diversity into the workshops. This is also one of the main reasons, why one part of the workshop programme is taking place at the wheelchair accessible Tanzfabrik Wedding in Uferstudios. We are very happy to acknowledge that every year a growing number of workshops and teachers are opening up to physical diversity. And, slowly but surely, each year we welcome a few more participants with disabilities that trust us enough to often really jump into the unknown.

Here's to inspiration and excellent exchange!
Ludger Orlok, Christa Flaig, Gabriele Reuter and the Tanzfabrik Berlin Team.
POOL Internationales TanzFilmFestival Berlin
Potsdamer Tanztage (Potsdam) Festival for contemporary music and dance.
TANZAHOi International Dance & Dance FIlm Festival (Hamburg)

GREECE
3rd Compartment Dance Project (Athens) An annual contemporary dance festival inside the vintage wagons of the Railway – Carriage Theater to Treno sto Rouf. 
Akropoditi DanceFest (Ermoupolis, Syros) International Dance & Dancetheatre Festival.

Anapale International Dance Festival (Athens)

Dance Festival of the Choreographers Association (Athens)
Emmelia Dance Festival (Athens)

Kalamata International Dance Festival
HUNGARY
International Dance Week Budapest
INDIA
Attakkalari India Biennale (Bangalore)
Avayava (Pune) Intensive International Workshops | More than 30 hours of Dance | Screening of Dance on Film | Performances
GOA Contactfestival (Arambol beach)
Prayatna Film & Dance Festival (Pune)
INDONESIA
International Rain Festival (Sukoharjo/Solo)  Festival to celebrate rain as blessing from the sky. All genre of art can express here. Presented by Mugi Dance every second week of January . email internationalrainfestival@gmail.com  Open registration for artists every May, free of charges.

IRELAND
The Tipperary Dance International Festival

ITALY
Agropoli Danza Festival  Performance art festival dedicated to supporting gender equality through dance performances by internationally recognized artists, conversations, and master classes open to the public. This project is aimed at elevating the voices of women artists and approaches the topic of gender-based violence from a global and inclusive perspective. The second annual Agropoli Danza Festival will take place July 11-23, 2022 in Agropoli, Italy at the Castello Angioino Aragonese — a breathtaking performance venue in a UNESCO site — and other sites throughout the city, which are free to the public.
The Agropoli Danza Festival is a direct response both to the increase in violence inflicted on the global female community during the COVID-19 lockdowns, and to the needs of the many unemployed artists. It will also provide a means for local economic recovery.
Our objectives for this project are to facilitate discussions, discourse, and dialogue around the topics of gender inequalities, address these issues which are happening right now, address how the COVID-19 pandemic has affected these issues, and how we socialize our children — specifically young boys — around the topics of empathy. Overall, this project seeks to ignite productive dialogue through art.
Dance in Italy Festival (Igea Marina)  Summer Dance Study that combines Training & Performances on the Italian shore. Email: danceinitalyfestival[at]aol.com  T: +39-0376-396824
Dance Italia (Agropoli, Lucca) 4 week contemporary dance festival with classes, workshops, and performances.

DAPFESTIVAL (Pietrasanta) International Dance and Visual Arts Festival. Integrated Project of Dance, Art, Music and Sculpture.  Artistic director: Adria Ferrali. New York associate artistic directors: Susan Kikuchi & Cassey Kivnick.
Fabbrica Europa Festival (Florence)
FIND-Festival Internazionale Nuova Danza (Cagliari)
International Dance Competition "Città di Udine" 
Mediterraneo Dance Festival (San Nicola Arcella (CS)) Since 1992.

Moving Bodies Festival (Torino)
OPEN FLR - International Choreographic Summer Intensive (Florence)
SalernoDanza (Castellabate, Velia, Ascea) 
UGO Festival (Modena) Part of a long term project called "UGO Project" that offers moments of study, performances, meetings with artists and training opportunities through the year with the aim of creating a meeting point dedicated to dance in Modena.
Venere In Teatro International Dance Festival (Mestre, Venezia)
World Dance Movement - The International Festival (Castellana Grotte (BA))

KENYA
Nairobi Festival of Performance and Media Arts A member of AMDA (África Mashariki Dance Network).

LATVIA
International Dance Festival Riga's Wave (Riga) – the main Dance Festival in Latvia. Unforgettable sightseeing tours, workshops with famous choreographers of ballet school and contemporary dance companies, feedback from the professional juries - these days are really exciting. We invite participants from all over the world and the most popular dance nominations are contemporary choreography.
VIDES DEJA (Ropaži)  International Contemporary dance festival "VIDES DEJA" is held by Dance foundation "Zvaigžņu AkA"("Stars' Well") and Ropaži Municipality Culture and Education center. If you are interested in participating in the festival  please, contact us. starswell7@gmail.com
LITHUANIA
New Baltic Dance (Vilnius) International Contemporary Dance Festival 'New Baltic Dance' during 18 years of its existence has grown up into one of the main and most prestigious dance festivals in the Baltic Sea region. It is organized by Lithuanian Dance Information Centre and Vilnius Festivals. Each yearly May it takes place at different venues in Vilnius. For the first event in 1997 festival team gathered participants mostly from the post-Soviet countries where contemporary dance had only been starting. Since then the number of guest countries increased significantly – the festival has presented more than 170 companies from 25 countries. 
MALAYSIA
East Point West | Interdisciplinary Festival of Embodiment (Kuala Lumpur)


MEXICO
ATLAS México Biennial International Dance Festival (Guanajuato) is a scenic and pedagogical meeting point that showcases performative works and workshops featuring the most important trends in the dance scene. The Festival breaks down into two main spaces:
1. ATLAS/ Pedagogical Laboratories 
This is a retreat of body practice for professional performing artists that aims to facilitate diverse pedagogical visions in a reflective and experiential manner, making up a space for ongoing, direct and meaningful coexistence; the laboratories are led by renowned international pedagogues who have developed diverse research and experimental proposals within the contemporary world dance scene.

2. ATLAS/ Scene
This is a platform for staged works built upon research and improvisational processes within the contemporary scene. It showcases works by experienced and well known contemporary creators, while concurrently being a window for novel performing artists.

Festival 4x4

Festival de Danza Contemporánea Unipersonal "Cuerpo al Descubierto" Miguel Ángel Palmeros

International Contemporary Dance Festival of Mexico City
MONGOLIA
MOROCCO
LES RENCONTRES CHORÉGRAPHIQUES DE CASABLANCA 
NETHERLANDS
BRIK (Breda) Brabants Internationaal Kinder Festival.
Holland Dance Festival (The Hague)

NEW ZEALAND
NORWAY
DanseFestival Barents (Hammerfest)
Multiplie Danse festival (Trondheim) Connected to DansiT
ravnedans.com (Kristiansand S)

PANAMA
PALESTINE
Ramallah contemporary dance festival

POLAND
International Contact Improvisation Warsaw Flow Festival (Warsaw)  Warsaw Flow Festival main objective is to spread CI technique and build a society of people related to this trend, for the contact to be regularly present in Polish dancing in different aspects (practical, theoretical, explorative). We wish to turn the capital city into culture-influential and socially open place. Warsaw Flow participant not only dance together, they spend their free time together as well, they exchange experiences, discuss dance and other topics, play instruments, sing, give away a positive energy. We hope that people co-creating the Festival with their presence, passion, curiosity, and creativeness will motivate and enthuse others with the liking for contact improvisation - primarily because this dance technique can be learned in any age, by people with different abilities and moving or dancing experiences.Cultural activities in urban space of Warsaw with its inhabitants is also a very important issue for us as the Festival organizers, relating to social aspects of contact improvisation, focused strongly on dialogue, openness and diversity.
International Dance Theatres Festival (Lublin) 
International Festival of Dance Theatres (Poznań)

PORTUGAL
Contempo-Collab (Lisbon) Contempo-Collab is a contemporary dance festival featuring top-tier choreographer/instructors from the US. Two levels offered. Week 1: Advanced/Professional Track (Ages 16+) Week 2: Adult Beginner Track (Ages 18+). Enrollment is limited to 25 dancers for each track to ensure personal attention.
Festival Dias da Dança (Porto)
InShadow - Lisbon ScreenDance Festival 
ROMANIA
Contact Bucharest Festival Contact Improvisation intensive classes/CI for contemporary dance & theatre/CI for beginners/performances
Crystal Swan (Bucharest) The v-th edition, 31 march-2 april 2017, National Children's Palace. All categories: ballet, contemporary/modern, lyrical, character, show dance, show revue, open, urban style.

FLOW - International Movement Theatre Festival (Sfantu Gheorghe)
The festival is a unique initiative in this region and aims to host significant dance performances in Sfântu Gheorghe that present contemporary movement and dance theatre trends across the world. Next Flow will be organized in 2019.
RUSSIA
ART PLANET (Saint Petersburg)  The international championship of arts. One of the most remarkable dance event in the autumn, in the dance capital Saint Petersburg. It is open to international dancers and ballet master that want to present their skills and performances. It is a great opportunity to get in touch with Russian contemporary dance and improve your dance skills and understanding your body during the workshops of contemporary dance. You can enjoy legendary sights during unforgettable tours. Grand Prix is free trip to the next festival.

International Dance Festival Baltic Pearl (Saint Petersburg) The most exciting and diverse Dance Festival in Russia's cultural capital – Saint Petersburg. More than 1000 participants from all over the world. All participants have a great opportunity to share their international experiences and participate in various workshops lead by the best dance coaches and at the same time relax and sightsee. Our goal is to make each Festival unique, extraordinary and unforgettable!
SERBIA
International Festival of Choreographic Miniatures (Belgrade)
SINGAPORE
M1 CONTACT Contemporary Dance Festival (Singapore) 
TRDO Colosseum (Singapore) The name 'Colosseum' came about as a gathering point to witness greatness. This festival was initiated by TRDO as a means for local Singapore dancers and regional dancers to have a chance to experience the varied styles and cultures of international dance artistes. It caters specifically to youth culture, and goes in line with TRDO's vision to make Contemporary Dance relevant and accessible. With its lineup of mentorship, workshops and showcase, Colosseum caters to the different appetites of people experiencing Contemporary Dance.

SLOVENIA
CoFestival (Ljubljana) International contemporary dance festival that mainly presents acts from abroad but also features some Slovene choreographers.

SOUTH AFRICA
Baxter Dance Festival (Cape Town)

Cape Town International Dance Festival

Jomba! Dance Festival (Durban)

SOUTH KOREA
Busan International Dance Market In 2019, October 11th ~ 14th, 10th anniversary of Busan International Dance Market has been successfully held. Come and See Us in Busan next years!!!

MODAFE (Modern Dance Festival) (Seoul) Usually in the second half of May.
Seoul International Dance Festival, SIDance

SPAIN
ACIELOABIERTO Red de festivales de danza contemporánea en espacios no convencionales
Certamen Coreográfico de Madrid
CHOREOSCOPE Barcelona Dance Film Festival
Cooking Dance Festival (Barcelona)
Costa Contemporánea, Encuentro de Danza Contemporánea y Artes Escénicas (Cabo de Gata-Níjar, Almería)  Costa Contemporánea is an annual meeting where artists and amateurs interested in Contemporary Dance and Scenic Arts gather together to create, interact, attend performances and take part in high quality workshops in the heart of the Natural Park Cabo de Gata, Almería (Spain). info@costacontemporanea.
Cuadernos Escénicos (Tenerife) CUERPO ROMO (Madrid)
DELTEBRE DANSA Festival Deltebre Dansa is comprised of two weeks of intense cultural activity, where around one hundred eighty dancers from all over the world meet in Deltebre.
Festival 10 Sentidos (Valencia) Festival 10 Sentidos organizes a CHOREOGRAPHY COMPETITION every year. It is open to international dancers and choreographers that want to present a short dance work (no longer than 15 min) that reflects upon the festival's theme. More details about the competition, the guidelines and the application form can be found at the webpage. 
Festival Internacional de Danza Itálica
Festival Internacional de Música y Danza de Granada
Girona en Moviment  The dance benefit festival Girona en Moviment is a unique opportunity to enjoy dance in all its forms. Join us for four days of workshops, high-quality performances, intensive courses, street activities and conferences on dance and health in the beautiful surroundings of the city of Girona, while raising funds for the fight against cancer.
Herdanza Festival (Santiago de Compostela)

MASDANZA International Contemporary Dance Festival of the Canary Islands

Temporada Internacional Dansa València
Trayectos Danza en paisajes urbanos (Zaragoza)
SWEDEN
ABUNDANCE International Dance Festival (Karlstad)

SWITZERLAND
Instant Composition (Zurich)  Instant Composition in dance, artistic and music.
Physical Days Bern (I'ts not exactly a festival, but a time for advanced trainings in a variety of dance forms)
STEPS Migros-Kulturprozent Tanzfestival Steps. 
YEAH YEAH YEAH! Internationales Zürcher Tanzfestival Das autarke, intime Tanzfestival zeigt sinnliche, humorvolle und abgründige Juwelen der vielfältigen Tanzszene Europas, der Romandie und Zürichs. Es wird rockig, es wird lustig, es wird ergreifend, es wird verwirrend!
zürich moves! Festival for contemporary arts practice in performing arts. 
TANZANIA
TRINIDAD AND TOBAGO
Contemporary Choreographers Collective (Port-Of-Spain) Known as COCO Dance festival. Annual International festival.

TURKEY
Istanbul Fringe Festival  Istanbul Fringe Festival looks for new and experimental works by local and international artists. The festival brings  together art works and workshops produced in the disciplines of theater, dance and performance. It offers both local and international artists a platform to showcase their work in several stages located on European and Asian side of Istanbul. This is a great opportunity for artists to meet and interact between themselves and the audience, exchange ideas while discovering a new artistic network.

SOLO CONTEMPORARY DANCE FESTIVAL (Ankara) The first solo dance festival of Turkey aims to contribute to the development of modern dance as well as to create opportunities for international dance society providing a social and cultural hub for contemporary dance. The program  also includes workshops, seminars and film screenings.   

U.K.
Dance International Glasgow (DIG) Started in 2015 Dance International Glasgow is a biennial festival of new dance for the city and Scotland. 

DanceLive (Aberdeen) DanceLive is an annual festival celebrating contemporary dance, and is Scotland's only festival exclusively presenting contemporary dance. The Festival aims to present the best contemporary dance in the North East, and to provide a platform for new work, particularly that of local choreographers and dancers, whilst raising the profile of contemporary dance and engaging with audiences of all ages. The Festival was recognised in Creative Scotland's Dance Sector Review and won Creative Cultures Scotland Award for Best Festival 2012 (public vote).
International Dance Festival (Birmingham)
Let's Dance International Frontiers (Leicester) Launching each year on 29 April to celebrate International Dance Day, LDIF brings diversity to the forefront in dance with a 10-day festival showcasing new work from local emerging talent to internationally acclaimed companies. Three dedicated platforms (Signatures, Autograph and Biography) support artistic development at different career stages. The programme also includes a national conference, films, workshops, site-specific projects and performances.

Nottdance (Nottingham) Nottdance is produced by Dance4.

Resolution (London) Resolution is the UK's biggest festival of new dance. Emerging artists perform in triple bills across 26 nights. The festival takes place annually in January and February. 
U.S.A.
Austin Dance Festival Professional Showcases, Master Classes, Artist Interviews, Youth Showcases, Dance on Film Screening with Moderated Director's Chat. 
Bates dance festival (Lewiston, ME) 
Bellforge Dance Festival (Medfield, MA) 
BIG RIVER dance festival (Huntington, WV)

Boston Contemporary Dance festival Boston Contemporary Dance Festival was established in 2012 to celebrate the new and largely unknown art of contemporary dance. The festival brings a diverse array of contemporary dance artists together from across the United States, inviting the greater Boston community to experience this art form at its finest. 
Breaking Ground Festival (Tempe AZ)

Chop Shop (Bellevue, Washington)
Contemporary Dance Choreography Festival (Orlando)
Dances on the Lakewalk (Duluth, MN)
D2D in Public Film Festival (Los Angeles)
DanceBARN Festival (Battle Lake)
Dance Camera West (Los Angeles)
Dance West Festival (Salt Lake City) 
Dancing Poetry Festival (San Francisco)
Exchange Choreography Festival (Tulsa, OK) EXCHANGE provides a meeting point for professional dancers to showcase their choreographic work and engage in dialogue about process.
Festival of Latin American Contemporary Choreographers (San Francisco)
Fire Island Dance Festival (New York)
Genesis International Choreographic Competition (Milwaukee, Wisconsin) Genesis, Milwaukee Ballet's international choreographic competition, returns to the historic Pabst Theater, February 16-19, 2017. Three talented choreographers from around the world, hand-picked by Artistic Director Michael Pink, will showcase original works to vie for the judges' and audiences' vote. THREE CHOREOGRAPHERS will be chosen to create a twenty-minute piece using eight dancers within a maximum of 90 hours of rehearsal time individually. Transportation to Milwaukee, hotel lodging, and a daily per diem will be provided.

HH11 Dance Festival (Santa Barbara)
Hudson Valley Dance Festival (New York)
International Association of Blacks in Dance Festival (changes cities annually)

Laguna Dance Festival (Southern California)
LINK Dance Festival (Salt Lake city) WHAT IS LINK?
15 Dance companies and projects from across the region
12 Emerging choreographers from across the country
54 hours of rehearsal and training
Auditions with 15 companies or projects looking to hire
6 days of 3-hour workshops with choreographers
15 morning classes (ie: ballet, contemporary, Gaga, partnering, etc)
1 professional seminar
2 evenings of performances by invited companies, projects and choreographers
25 stage works
2 Installations
450+ invited guests including Presenters, Agents, Managers, and Artistic Directors from companies across the region

Lion's Jaw (Boston) Dedicated to the research and development of post-modern and contemporary dance in Boston.

Los Angeles Dance Festival Contemporary Dance Festival Celebrating the best of Companies and Individual choreographers. Held annually in Spring. Main Stage Performances, Fringe Performances, Classes.
Oklahoma International Dance Festival (Lone Wolf, OK) An unmatched dance intensive and performance experience. | Oklahoma International Dance Festival brings leaders of classical ballet and contemporary dance to a serene lakeside resort in the Wichita Mountain range of rural OK.

One Sol Dance Festival: The Revolution Will Not Be Televised (Denver, Colorado)  Inviting dancers of all levels into spaces of connection that emphasize collaboration not competition.  Emerging artists, established artists, lovers of dance ---let's unite! 
ONE SOL is a 5-day immersive dance festival highlighting collaboration vs competition among emerging and established dance and expressive artists from around the world. With a focus on training, creating, and performing cross-cultural, contemporary and conscious forms of dance. 
​ONE SOL builds bridges and creates inter-generational spaces for safe, authentic expression and connection, pushing past personal boundaries, limitations and promotes the creation of cutting edge works that have the power to change the world.
ONE SOL participants will train with multiple distinguished guest artists in multiple styles of dance, movement, and embodiment while creating thematic works together, building community, performing together in The Edge Showcase, and dancing freely with the entire audience and community in the Get Free Ecstatic Dance Experience.
Palm Springs International Dance Festival

Presenting Denver Dance Festival
PTW (Performing The World, New York)
REVERBdance Festival (New York) 
Salt Dance Fest (Salt Lake City, Utah)
Seattle International Dance Festival
SoloDuo Dance Festival (New York)
The Choreography Festival (Palm Desert) McCallum Theatre's Choreography Festival was launched in 1998 to support choreographers in their career endeavors, create new venues and audiences for dance presentation and support new trends and directions in dance via the recognition of dance making at the highest level of artistic expression.

The Dance Gallery Festival (New York City and Huntsville, TX)
The Outlet Dance Project (Hamilton, NJ) The Outlet Dance Project is an annual festival committed to collaboration, community building, interdisciplinary experimentation, and the exploration of the audience/performer relationship. It provides women-identified choreographers of all traditional and nontraditional dance genres an opportunity to share their artistic vision through site-specific dance, stage performance, and film.

TIPDI's Move Up Dance Camp (New York) TIPDI's "Move Up" Dance Camp is a technique-focused Ballet, Modern, and Contemporary dance weekend geared towards adult dancers and dance enthusiasts.

The majority of attendees range in age from mid-30s to mid-60s and are usually former professional dancers returning to the studio after an absence, or current dancers exploring technique classes outside of their primary dance form. All classes are leveled - Beginner thru Advanced. Participants take 15 hours of technique and choreography classes with instructors from Steps on Broadway, Gibney, and Broadway Dance Center. It's a fun, friendly, non-competitive, conservatory-style environment. The TIPDI Dance Camp series is currently in its 4th year, and has welcomed dancers ages 20-70 from all around the US and 11 other countries.
Versatility Dance Festival (Denver, CO + one other national city annually) Dance and film festival.
We Create! Celebrating Women in the Arts (Boston)

Young Choreographer's Festival (New York City)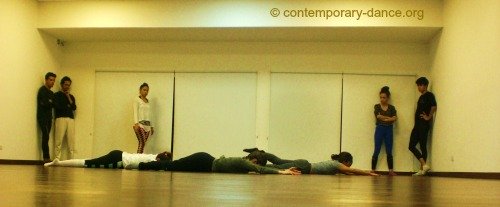 Dancers in class with Sara Idárraga at 'El Cubo', Medellín, Colombia, 2017.
I hope our directory is useful for you. Remember that it is continuously under construction. If there's any information you think that should be included, just let me know.
Also, if you prefer your festival to be removed from our list, just contact me and send me the message.
---
Return from Contemporary dance Festivals to our Home Page