Where did contemporary dance come from?
by Lorraine Smith
(Portsmouth )
Where did contemporary dance come from? What are its key features and how is it different from other styles of dance?


FIRST ANSWER:
Dear Lorraine,
Contemporary dance is known for arising first in the U.S. and Europe between the 1950s and 1970s. For expanded information regarding the history of contemporary dance, visit our special page about the topic:
Contemporary dance history
You will find the key features of contemporary dance in its definition located in our glossary. Just scroll down the page looking for the expression 'contemporary dance':
Dance terms
Those characteristics that define contemporary dance in a general way are at the same time what makes it different from other styles of dance, like for example:
- No fixed choreographic vocabulary
- Importance of ethical values above the resulting product
- Use of a variety of techniques in the dancer's training
- Production of performances or shows in all kind of public and private spaces
- Interdisciplinary working with other aesthetical languages
Though, if you observe contemporary dance more carefully, you will notice that each piece has its own characteristics, in which some aspects might vary and be influenced or taken from any other type of dance or art.
If you want to read a handy summary of contemporary dance history, I have this e-book available for you: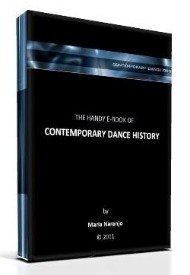 To have a broader idea of contemporary dance choreographic features, it may be useful to watch some examples. You might like visiting our page of contemporary dance videos for this:
Contemporary dance videos
To have a really expanded answer, just feel yourself at home at
contemporary-dance.org
. Visit around all the different sections we have and you will find a lot of extra information!
Warm regards,
Maria