The Dance Thinker
Issue # 10, August 24, 2011


News
1. Surprise in Spanish!…
2. We have new facebook features.

Articles
1.DEGAS IN THE EYES OF A DANCER

If you can not view this message correctly, please copy and paste the following link in your browser's address bar:
https://www.contemporary-dance.org/The_Dance_Thinker-degas-in the-eyes-of-a-dancer.html




1. Remember that contemporary-dance.org has many pages that you can use.
We have:
- A page for contemporary dance announcements in which you can post your news about workshops, auditions, performances, meetings or any current, related items.
- A contemporary dance blog where you can find current information and that will automatically distribute what you post in the announcements page to facebook, twitter and all subscribers to the site's RSS feed.
- A worldwide, contemporary dance directory of schools, companies and websites to which you can also submit your contact information.
- A special page for asking dance questions.
- Several pages in which you can participate with contributions like articles, reviews, questions, ratings or comments.
- An archive for THE DANCE THINKER back issues, where you can always revisit precedent issues from our e-zine.
- A contact page through which you can address to me directly if you have questions, ideas, wishes, suggestions or comments.

2. It is easy to subscribe to The Dance Thinker. If you know somebody that would profit from receiving our e-zine, just let her/him know about the small subscription form at the right column on every page in the site.
News

1. Surprise in Spanish!...
Following the request of some of our visitors, this month I started the translation of our website to Spanish. I will do this progressively with the most popular pages, so you will start finding links at the top right of the pages with the text ESPAÑOL. The goal is to have as much as possible of contemporary-dance.org completely in Spanish, so that our colleagues who don't speak English can join us and participate. Now you can tell all your friends in Spain or Latin America about the news!
Here's the first page already available:
Historia de la danza contemporánea

2. We have facebook 'like' and 'send' buttons now, as well as a form for comments at the end of each page. Don't be shy! Leave me your comments about what I'm writing for you; let your colleagues and friends know about our website. Click the like or send button, so that more people have access to all the information we are sharing about contemporary dance.

Articles
1. DEGAS IN THE EYES OF A DANCER
We all know that the perception of the world that surrounds us is usually determined by our own life and self. For example, if we decide to buy an apartment, suddenly we discover that our town is full of 'for sale' signs hanging in the windows; or, if our new love is a veterinarian, we start having new feelings towards animals...
According to these rules of perception, dancers would see or feel things in the world that come from their particular corporal experience. The following text is an attempt to show what one dancer (me) has seen in two paintings by Edgar Degas.
Dancers and choreographers, I guess you would enjoy (and understand!) this more than anyone else. I hope you like it.

Degas in the Eyes of a Dancer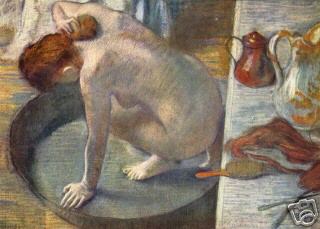 "The Tub" by E. Degas (1886)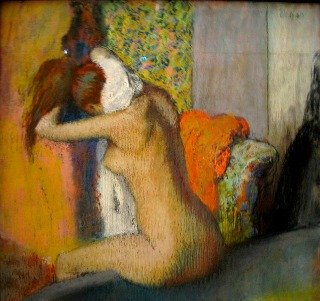 "After the Bath, Woman Drying her Neck" by E. Degas (1898)


Two nude women, two occupied bathrooms, two similar everyday situations. However, two contrasting body positions. What are, in fact, the differences? Where can the commonalities be found?



We could say the first woman is 'collected': her position is convergent and centripetal. Her body leans towards the inside of an imaginary circle, whose periphery runs downward along the convexity of her shoulders and down her back. Her head continues the circle and remains inside this space. Degas highlights this sense of intimacy: he places the woman inside the washtub; it is drawn under her and the closest surroundings embrace her.
The sphere that this woman projects with her body is in front of her, in the space visible to her. What she sees, that is, the space that separates her from the light reflections is included within the circle. Her eyes, however, hidden from the viewer, do not serve an essential purpose. One can almost envision the relaxed iris of her eye, her inner 'gaze' across her flesh towards her neck. And then, the presence of small movements that rub her skin and cause her entire body to sway slightly, almost imperceptibly. To achieve this and keep her balance, the woman has to be on an axis of oscillation. This axis, an imaginary vertical line of gravity, is also within her circular space.
The second woman, in contrast, is expanding. Her corporeality is outside of the sphere located behind her. Her concave back, followed by her hips, begins the curve. The limbs of her body elongate her figure in directions opposed to the circle's center. Her position diverges . . . it is centrifugal. Her 'gaze', however doesn't seem to be directed towards the outside. She also seems lost in an attempt to reach her neck and maintain her balance. Her vertical line of gravity is located outside of the sphere, whose volume is in her invisible space (although, I think, perceivable space). Here also, Degas repeats the expression of an intention towards the exterior: she is depicted outside of the bathtub.
The woman in The Tub fills a reduced space within her kinesphere: her feet are as close as possible to her navel, her shoulders close to her knees, one arm is flexed, her hair is tied and gathered towards the base of her neck. Then, the relation between her left leg and torso creates convergent lines: her leg crosses the space between her stomach and feet and fills it with flesh. Everything is close.
Her use of architectural space is also reduced. In fact, she occupies a less scattered portion of the room. She is also moving towards the floor. The top of her left foot and the palm of one of her hands are her main points of support. Three points of her body are in contact with the washtub. The rest of her body is crouched over these points; her weight converges here. The sense of her movement is earth-bound.
In contrast, in After the Bath, Woman Drying Her Neck, her corporeality expands. Her thighs receive her weight and replace her feet as support. From there, free and floating from the tension of weight, her thighs facilitate the chain of tensions and distensions that allow the pelvis to bend. From there, the woman is arranged, from bottom to top, in a series of openings: her knees are only partially flexed, her waist is farther away from her thighs, her torso moves towards the ceiling away from her legs, her elbows are extended outwards and reveal her armpits. Her hair, gathered up on her head, hangs forward. Her left leg, instead of resting in front of her, sits apart and is extended outwards. A large area is created between her feet and her head. Her kinesphere is expanded, just like the architectural space she occupies. This woman occupies almost three times as much space in height compared to the first one. The compensation of weight that allows her to keep her balance is maintained as she stretches upward in space. She is only touching the ground with two points of her body, possibly only one. She is essentially attempting to pierce the heavens.
To offer herself to the earth, the first woman also has to hold up the highest points of her body, attempting to suspend herself. Under her, Degas leaves space to depict the room; he creates a corporeality that seems to move downward, but he places it as close as possible to the upper edge of the painting. The other woman, in contrast, is closer to the lower edge. To achieve this more upright position, she must direct her weight towards the earth through her two points of support. She must, just as the painter does in his search for a certain balance, allow her body to drop.
So, the two women are in a position of delicate balance. Their goal of reaching their necks is only possible if their limbs are in a constant oscillation of opposing movements. The blurry lines outlining their bodies and the granular texture of their skin could be signs of these tiny movements.
The two images oppose each other, but they also complement each other. One woman is wetting her skin, the other is drying hers. In fact, one image logically follows the other. We are presented with two aspects of the same reality. It would not be possible for these women to maintain their 'balance' without embodying, implicitly, the presence of one another.

Translated from Spanish to English by Maria Rausse, 2011.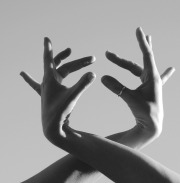 Maria Rausse (mrausse[at]gmail.com)
Maria is a freelance translator and interpreter and has worked in Russia, the U.S. and Spain. Her native language is English and her working languages are Spanish and Russian. Most recently, she translated a story on the armed conflict in Colombia and worked with the Museum of Political History in St. Petersburg, Russia on a museum guide.


Originally written in French by Maria Naranjo, 2005.

This text is already published in Spanish at contemporary-dance.org. You can find it through the following link: Degas visto por una bailarina
---
If you can not view this message correctly, please copy and paste the following link in your browser's address bar:


https://www.contemporary-dance.org/The_Dance_Thinker-degas-in-the-eyes-of-a-dancer.html



---
Remember to feel free to answer this e-mail. Let me know what you think. I'm always opened to comments, suggestions, ideas, wishes…


Written by Maria Naranjo.

Editor and Webmaster of contemporary-dance.org


© copyright since 2010 contemporary-dance.org
---