The Dance Thinker
Issue # 7, May 24, 2011


News
1. Two new great pages in our health section.
2. Since the 15th 2011, contemporary-dance.org has its own Facebook page.

Articles
1. Interview with Dario Vaccaro.

If you can not view this message correctly, please copy and paste the following link in your browser's address bar:
https://www.contemporary-dance.org/The_Dance_Thinker-dario-vaccaro.html




1. Remember that contemporary-dance.org has many pages that you can use.
We have:
- A page for contemporary dance announcements in which you can post your news about workshops, auditions, performances, meetings or any current, related items.
- A contemporary dance blog where you can find current information and that will automatically distribute what you post in the announcements page to facebook, twitter and all subscribers to the site's RSS feed.
- A worldwide, contemporary dance directory of schools, companies and websites to which you can submit your contact information.
- A special page for asking dance questions.
- Several pages in which you can participate with contributions, questions, ratings or comments.
- An archive for THE DANCE THINKER back issues, where you can always revisit precedent articles.
- A contact page through which you can address to me directly if you have questions, ideas, wishes, suggestions or comments.
2. It is easy to subscribe to The Dance Thinker. If you know somebody that would profit from receiving our e-zine, just let her/him know about the small subscription form at the right column on every page in the site.
News

1. Two new great pages in our health section.
Our new health section continued to grow with two new pages during this month. Here are the links to visit them:
I hope you like them!

2. Since the 15th 2011, contemporary-dance.org has its own Facebook page .
As you know, I had been sharing all the news from our website through a Facebook's personal account. From now on, our website has its own page and all the news will be distributed through that page. So remember to visit it and 'like' it, so that you receive the information too.
Here's the link to get to it:
Go to contemporary-dance.org's facebook page.

Articles
1. Interview with Dario Vaccaro.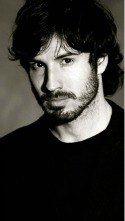 Dario Vaccaro
© 2008 Pietro Lucerni

"I WANT TO MAKE CONTEMPORARY DANCE POPULAR AND ACCESSIBLE TO EVERYONE."

This time I had the great opportunity to chat with this charismatic dancer and choreographer. Full of energy and passionate about contemporary dance, Dario shines like a star that is capable of everything. He really seems to be going for big dreams and believes that everything is possible with hard work.
"...what happens is that some people do not really want to work hard… those should just not complain… if you are creative and if you work and produce, you can achieve what you desire..."

PRESENT
Dario Vaccaro lives in New York and leads the "Dario Vaccaro Dance Project" company. His professional career as a choreographer started seriously in 2005 with a piece entitled "Tiempo", which received great critics from the New York Times and opened him great doors to continue with his choreographic proposals.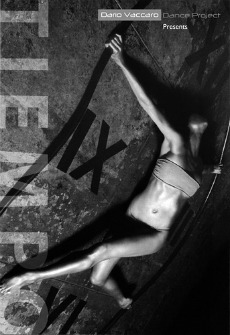 "Tiempo" by Dario Vaccaro Dance Project
© 2005 Futoshi Miyagi
He has produced more than twenty pieces since then and his group benefits from the status of resident company at the Dance New Amsterdam studios in Tribeca (NY), since 2006.
Dario is currently working on two different main tasks. One project, which has a more commercial character, is a multimedia show entitled "Projected", and is being done in collaboration with Louis Greenfield (one of the most recognized dance photographers in the U.S.).
His other main type of work has a more experimental character and consists of constant new creations for his company, different types of workshops, work in progress events, and other experiences that he proposes, which aim to cultivate and maintain the interest of an audience.
Though he was educated as a classical dancer, he considers himself as "absolutely not classical" and his creative proposal as more 'modern' with a lot of theatrical elements.
Each one of his pieces is different and seeks for its own choreographic vocabulary. Dario says that now he is not "picking up dancers" for his projects any more, but that he is 'creating' them. Therefore he has a stable group of seven dancers with which he is currently working.
He is also in the search for an art that captivates the audiences: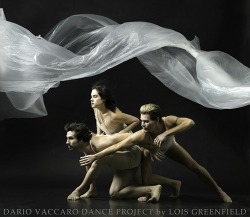 Dario Vaccaro Dance Project.
Dario Vaccaro, Alexandra Gonzalez, Attila Csiki
© 2007 Lois Greenfield
"As an artist I think it is very important to consider the public. I like to be sure that what I say is readable for the audience. I do 'work in progress' events from time to time, to have communication with people and public participating in the creative process. New York is great because there's always a good audience for this type of things; there's always people who is looking forward to see the creative processes."
"One of my big dreams is to see young people in the theater. The audience of contemporary dance is reduced to the same people all the time and that makes me think that there's something that is not working. Why are people not getting interested? I believe something has to be done to attract the audience. Therefore I'm in the search for a choreographic language that would be artistic but at the same time popular and accessible. I want to make contemporary dance popular and accessible to everyone."
"I am happy being a dancer and am now growing up as a choreographer. I don't feel that I have already found my own vocabulary, though there are movements that dancers recognize as my movement, but my dream is to achieve something like that. I would like to make a contribution, to leave a small seed in the world of dance."

Dario also works as a teacher from time to time by programming workshops over specific subjects. These days he has been interested in body language and gestural communication as well as in the exploration of the dancer's creativity. Sometimes he offers classes for non dancers as well to have contact with all kind of people.
He is also creating a foundation to help dancers; he wishes to generate cultural exchanges or grants but also to give free classes for those who can not pay for them. He believes that this is a basic need for dancers and many of them have budgets that can not afford it.
"I believe dancers are the ones that work harder among artists and it is a terrible situation that they have to stop dancing for economical reasons."

PAST (…believe me, Dario Vaccaro's biography is like a movie screenplay!)
Dario is born in 1980 in Cosquin, a small town in Argentina where he starts his performing career practicing pantomime with local teachers.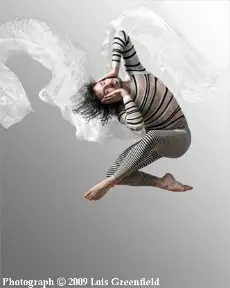 Dario Vaccaro
© 2007 Lois Greenfield
"I was born being an artist. Since childhood I was already making puppet shows, acting in birthdays or performing at school…"
His way into dance is amazingly like a "Billy Elliot" story: he is given a conservative education and taken to a technical school for boys; his father wants him to practice sports (and Dario hates it…! an Argentinean that hates football…: dancer heart since the very beginning…!) and his mother supports his artistic inclination.
His amazing talent for dance is discovered by a jazz dance teacher, who invites him to a dance competition abroad at a moment when his father doesn't even know that he is taking dancing classes! (dance biographies always have these exciting episodes…!). But surprisingly, his father reacts very well to the news, and Dario attends the contest, where he gets a gold medal...
So, he starts studying deeper, and continues to assist to dancing contests, where after a new gold medal, he is granted a scholarship to study in the city of Córdoba (this is only six months after he takes his first dance class...!)
At that moment, he has started attending a technical high school. He has to be present there from 8 a.m. to 5 p.m., and then bear one hour of road to Córdoba to take his ballet class and another hour of way back to return home. He does his school homework during the paths as an obligation while becoming a full time balletomane in his heart.
Feeling the need of dedicating himself seriously to dance, he starts rejecting high school, but his mother doesn't accept him to leave it. His passion grows and the moment of a break arrives: Dario argues with his parents, takes his bag and leaves home… (14 years old! Movie story...).
This is how, after a negotiation with his parents and the high school director, he achieves to move to Buenos Aires, to present himself to the auditions of the school of the Colón Theater (Instituto Superior de Artes del Teatro Colón). At the same time he continues studying by himself to attend the high school's exams in his home town at the end of each term.
The movie continues…. He happens to be one of the ten dancers that win the privilege of studying at the Teatro Colón, among maybe some 600 candidates that present the exams...! (and he is received in the fifth level!... this boy was born being a dancer!)
"I was completely happy; the only thing I did at that time was eating, sleeping and dancing..."
After a few years there, he receives a scholarship to study for a while in Canada and another one to go to the Jacob's Pillow in the U.S., which allows him to start his international experiences. After that, he goes back to Argentina and starts working for the Ballet Argentino de Julio Bocca (another amazing experience...).
In 2002 he decides to move to New York (for intuitive reasons… but just exactly before the economic collapse in Argentina! ...a playwright wouldn't have written it so good…). He leaves everything behind and flies as an adventurer, but after not more than two weeks in the U.S. he is already working for the Twyla Tharp Dance company (wow... wow!).
Later, he continues a series of collaborations with David Parsons and the Cedar Lake Company until 2005 when he starts his own choreographic work more seriously.

NEAR FUTURE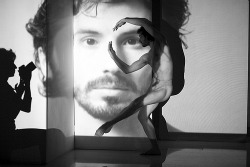 "Projected" by Dario Vaccaro and Lois Greenfield
© 2010 Lois Greenfield

- Wait for the launching of "Projected", which will be surely an amazing piece.
- Now you also know you can find him at the Dance New Amsterdam studios in Tribeca, where you can participate in all the activities or attend shows.
- And be attentive at the launching of his company with a new name (coming up towards June).

"I don´t know if I'll stay in New York. I'm a citizen of the world, I love travelling, going to Europe and being European, going to South America and being a Latin… I like to live as the local people from the places I visit..."
"In the future I see myself generating big things, but always projects that are accessible to everyone..."
---
If you can not view this message correctly, please copy and paste the following link in your browser's address bar:

https://www.contemporary-dance.org/The_Dance_Thinker-dario-vaccaro.html



---
Remember to feel free to answer this e-mail. Let me know what you think. I'm always opened to suggestions, ideas, wishes…


Written by Maria Naranjo.

Editor and Webmaster of contemporary-dance.org


© copyright since 2010 contemporary-dance.org
---