The Dance Thinker
Issue # 25, Feb 13, 2014



News

1. The Latin American series continues in this issue with dance history of Argentina and Venezuela.

2. Links to some of the new chats in our forum.

Articles

1.Dance and Identity. The Latin American series: ARGENTINA and VENEZUELA

If you can not view this message correctly, please copy and paste the following link fully in your browser's address bar:
https://www.contemporary-dance.org/The_Dance_Thinker-dance-history-argentina-venezuela.html




1. Remember that contemporary-dance.org has many sections that you can use.
We have:
- A page for contemporary dance announcements in which you can post your news about workshops, auditions, performances, meetings or any current, related items.
- A contemporary dance blog where you can find current information and that will automatically distribute what you post in the announcements page to facebook, twitter and all subscribers to the site's RSS feed.
- A worldwide contemporary dance directory of schools, companies, scholarships, festivals and related websites to which you can also submit your contact information.
- A forum for asking dance questions.
- Several pages in which you can participate with contributions like articles, reviews, questions, comments or even ratings.
- An archive for THE DANCE THINKER back issues, where you can always revisit precedent issues from our e-zine.
- A contact page through which you can address me directly if you have questions, ideas, wishes, suggestions or comments.

2. It is free and easy to subscribe to The Dance Thinker. If you know somebody that would profit from receiving our e-zine, just let her/him know about the small subscription form located at the right column on every page of the website.
News

1. The Latin American series continues in this issue with dance history of Argentina and Venezuela.
If you didn't read our last issue, you may not know that I'm publishing a series of short articles about dance in Latin America with emphasis in the figures who have tried to create identity through dance. Today's turn is for Argentina and Venezuela.
You can read the introduction of the series here:
Dance and Identity. The Latin American series: CUBA and BRAZIL
I'm sorry to say that this content has no pictures, but I would love to add some to complement the text. If someone out there has some original pictures related to the topics mentioned, and wants to share them, I will gladly edit the articles that remain in our archive, for the pictures to appear. You can simply answer to this e- mail and attach the files. Thanks in advance in behalf of all the readers ;- ) .

2. Links to some of the new chats in our forum.
Since I didn't send you many issues of our e-zine last year, there are maaaany new opened threads in our forum that I haven't told you about. Some of them may be of interest for you. Here are the links to find them:
Is it wise to start learning contemporary dance with the Skinner Release Technique?
How can anatomy provide help in the training process to become a successful dance performer?

Remember that you can participate at any chat by leaving your own comments and sharing your knowledge.

Articles

1.Dance and Identity. The Latin American series: ARGENTINA and VENEZUELA
This series about dance and identity in Latin America started in our previous issue of 'The Dance Thinker'. If you wish to better understand the content that follows, please read the introduction of the series here:
Dance and Identity. The Latin American series: CUBA and BRAZIL

ARGENTINA
The Argentinean concert dance has its birth in theatrical dances that are performed as a secondary show of comedies or circus' performances. After the construction of the 'Teatro Colón' in Buenos Aires (1857), people can see ballet that is brought from Europe in pieces like 'Giselle', presented by Juan Rousset, or 'The Sylphide', in 1860. From 1883 to 1886, mainly Italian ballet companies perform at the theater. Though, at the end of this period, ballet losses importance and disappears almost completely from the scenery.
With the new foundation of the Theater in 1908, ballet reappears on stage presenting the 'Diaghilev Russian Ballets'. Since that event, the idea of an Argentinean ballet appears, but it is not officially shaped until 1925.
Modern dance starts being shown alongside ballet, by dancers that want to explore other shapes in their choreographies and enrich their movements. In 1940, the 'Ballet Joos' visits Argentina and it is remembered as an important contribution for the Argentinean dance. Ossona** says that "those of us who were expecting that dance would be a way for our expressive urge were deeply touched by that group" (Ossona**, 1994, p.16).
During the Second World War, dancers from the 'New Dance' trend that come from Europe and the United States, settle in the country. One of them is Otto Werberg, who uses expressive and emotive elements in his pieces like hitting, shouting and unused expressions (for the time), and who presents his dance company 'Teatro del Ballet' ('Theater of Ballet') in 1943. Also, the North American dancer Miriam Winslow, who stays in Argentina since 1947, creates her own dance company three years later.
Afterwards, dancers like Paulina Ossona (formed in classical dance and in modern dance with Margarita Wallman, Miriam Winslow and Clotilde and Alejandro Sakharoff) are recognized thanks to Margarita Wallman, who studied with Mary Wigman and Rudolph Laban and who creates a group in 1943 where dancers avoid imitation and search for their own shapes.
During the sixties, establishments like the institute 'Di Tella', which instructs artists in all fields, or the 'Ballet del Teatro San Martin', are created. This last one becomes an official dance company and is directed by the choreographer Ana Itelman during the seventies and eighties, which is a time of great pressure by the military dictatorship. In this same period, the company 'Nucleodanza' is founded (1975) under the direction of Margarita Bali and Susana Tambutti. It reaches an important recognition both in the country and abroad as an independent group.
By 1983, the Argentinean modern dance opens to the world and several dancers like Graciela Concado, Teresa Duggan and Marina Giancaspro among others, leave the country to study other techniques like the Contact Improvisation and the Release Technique . After coming back to their country, they work as teachers at Margarita Bali's school.
Finally, it is important to mention the dancer and teacher María Fux, who has a classical and modern dance career. She makes her debut in 1942 and becomes the soloist of the dance company of the 'Teatro Colón', between 1954 and 1960. She is currently known as the pioneer of dance therapy in her country. After getting to know the dance of Isadora Duncan, she inclines towards a type of movement that belongs to the dancer and states that "the artist should not take distance from the reality that surrounds her/him. The significance of dance is not the turning, jumping or shifting of legs but the totality of an individual that lives for expressing her/him self" (Ossona, 1994, p.21).

VENEZUELA
Dance as a professional practice has its birth in Venezuela around the 1940s with the chair of ballet of the 'Andrés Bello' high school and the opening of the 'National School of Ballet' by Nena Coronil. This one is directed by the Argentineans Luz and Henry Thompson, who had been dancers at the 'Russian Ballet of Corel de Basil'.
Important ballet figures like the 'Russian Ballet of Corel de Basil', the 'Ballet Joos', the stars of the 'Paris Opera' and Alicia Alonso visit Caracas during this decade. They produce a great influence and motivate the education of more professional dancers in the country.
During the 50s, the dancer Grishka Holguín arrives from Mexico and initiates the Venezuelan contemporary dance movement, as till that time concert dance is limited to ballet. He gains great importance, even till today, and is followed by Sonia Sonoja, Graciela Enríquez, José Ledesma, Adriana Urdaneta, Jacques Broquet, Juan Monzón and Luz Urdaneta. They can be mentioned here for their interest in exploring Latin American culture and daily life gestures, among many other topics.
During that same decade, dance gains a more professional character with the opening of the 'Venezuelan School of Contemporary dance', the 'Inter American Academy of Ballet' and the 'Venezuelan National Ballet'. By the 60s, dance is already including topics that are associated with the current social and political dynamics of the country, which is described as accelerated and convulsive.
In the 70s, the dancer Sonia Sonoja becomes known and is attributed to have an insight of movement associated to history. "It was closely tied to the aesthetics of the ancestral Latin America" (Paolillo**, 1994, p. 138).
Thanks to the creation of the 'Caracas International Ballet', the city is visited by three important groups: Maurice Béjart's company, Rudolph Nureyev's company and Pina Bausch's company. This happens all during the 80s and since that, important institutions like the 'National School of Dance' and the 'High institute of Dance' are created.
An important figure to mention here is Vicente Nebreda, who begins his career as choreographer in 1975 with the 'Caracas International Ballet'. His choreographic work makes great emphasis in Latin American Identity in pieces like 'La luna y los hijos que tenía', 'Nuestros valses' y 'Una danza para ti'. Known for his musicality, plasticity and freedom, together with Marisol Ferrari, he bases his creations in "identity and freedom as Latin American ideals; more as an engagement than as topics" (Paolillo, 1994, p.138). He is considered by dance history as a fundamental figure in the development of Venezuelan ballet.
So is the case of Carlos Orta, a Caracas born dancer who studied dance in Paris and Germany with teachers like Pina Bausch. He stands out for his search of a particular movement, of an own style of the dancer that would search within her/his own inner needs.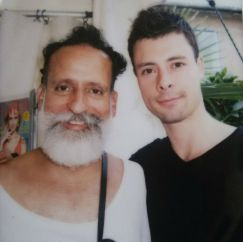 David Zambrano (to the left) and Colombian dancer Federico Zapata, 2014
Finally, the Venezuelan born dancer and choreographer David Zambrano is renowned nowadays. Settled in Amsterdam, he works over improvisation and teaches his own developed technique called Flying Low.
Other important companies in the country are 'Danza Contemporánea Caracas Roja Laboratorio', created in 2000 and directed by Rafael Nieves and Hilse León. They focus their search in daily life issues, therefore including urban rhythms like hip hop and rap in their pieces. There's also the group 'Dramaturgia del Movimiento – Dramo', which includes other artistic disciplines in the danced based work, the group 'Espacio Alterno' which makes fusions between dance and visual arts, and other Caracas settled groups like 'El Bisturí', 'Mudanza', 'Neodanza', 'Sarta de Cuentas' y '100% Impro'.

………………………………..
This text was originally written in Spanish by Yudy Lorena Jiménez*. It has been revised and translated to English by Maria Naranjo for contemporary-dance.org.
…………………………………

*Jiménez, Yudy Lorena. Análisis del proceso creativo de la obra de danza contemporánea "Comunabenilde". Hacia la creación de un lenguaje propio. Trabajo de grado para optar al título de Licenciada en Educación Básica en Danza. Universidad de Antioquia, Medellín, 2013.
**Ossona, P., Navas, C., Fernández, V., Cabrera, M., Dallal, A., Paolillo, C.. Itinerario por la danza escénica de América Latina. Editado por CONAC, Caracas, 1994.
………………………………..

If you wish to read further… we have some related articles in our website:
The National Contemporary Dance Company of Argentina. Testimony of Juan Guillermo Velásquez.
Flying Low and Passing Through by David Zambrano
Flying Low and Passing Through: testimony of Diana Betancourt

And that's it for this issue... but the text continues with dance history of COSTA RICA and MEXICO in our next 'Dance Thinker' (next month). I hope you enjoy the series. Till soon...!
---
Remember to feel free to answer this e-mail. Let me know what you think. I'm always opened to comments, suggestions, ideas, wishes...


Written by Maria Naranjo.

Editor and Webmaster of contemporary-dance.org


© copyright since 2010 contemporary-dance.org
---